Sunrise at Vienna Fashion Week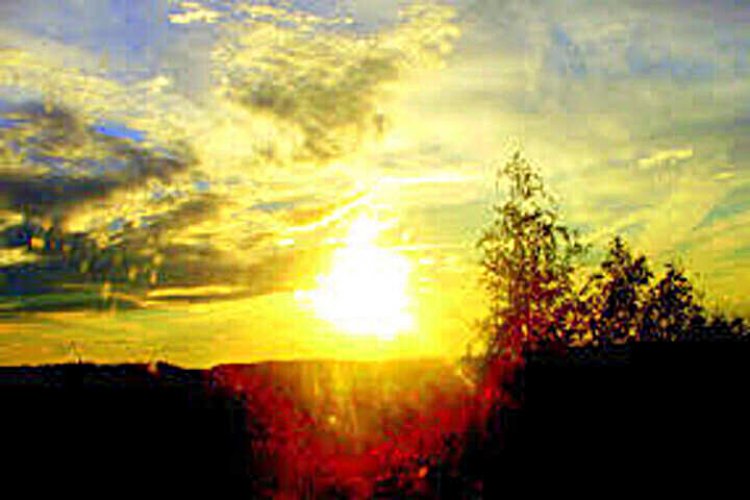 I can barely hear the quiet melody of my alarm through my own thoughts, but I take the reminder seriously and drag myself out of the warm embrace of my bed. It's Tuesday, September 13th, and my friend, model and muse will be arriving soon to help me move my prepared collection from my childhood bedroom to the Museumsquartier.
On the way, we reminisce a bit about how our friendship started exactly where we are going now: at Vienna Fashion Week. At the time I was a team leader for fittings, and Susi had made the trip from Tyrol to Vienna for the first time as an intern. Neither of us know exactly how many years ago it was — perhaps four? Now I am the head of the backstage team and Susi has made the four and a half hour journey just for this one, very important day.
We arrive early, but coffee and twenty minutes in the sun are a treat. We namedrop the theme of my collection, Helios, and calmly lean on each other to absorb the warmth and energy of the sun. Today is the second day of the week, and we both know that I will need the boost of the sun's rays to make it through the event.
As we go backstage, everyone greets me as usual. As per their habit, the models arrive late. Only a part of the new trainees know that one of the first fittings today will be my collection. Those who have been working here for a while, are happy to see Susi while I hang up my brimming clothing bags and start checking everybody's COVID tests.
Elias, my second close friend and model, is still waiting for the results of his COVID test, but, as he is my metaphorical right hand, I introduce him to the fashion designers that just arrived.
My fashion show will be at the same time as schnittBOGEN's and we know each other well, as I have been working in Vienna's first open workshop and co-working space for almost half a year. Another connection I made through Fashion Week. Maria Oberfrank, designer of the brand Pitour, Hungarian living in Vienna, and one of the founders of Vienna Fashion Week, recommended me for my part-time job at schnittBOGEN.
The backstage slowly fills up and the models show me their negative COVID tests one after the other. I see Elias' test in passing and immediately backtrack. Positive. That can't be! I sit him down some distance away from everyone else and make hiim do another one. Which is also positive.
I have to laugh because just ten minutes ago I said that there won't be any catastrophes today. My first thought is Elias' dress. Who will wear it on the runway? My second thought is the next five days of this week. Will I be successful without my right hand man?
Our boss sends Elias home and I have no choice but to continue the day and week with only my left hand.
Rene, my direct supervisor, is already on the phone. He's trying to book a model for Elias's clothes and hands me the daily model list so that the fittings can begin. I take a deep breath and start my own fitting. Rene's words from yesterday echo in my head… I can do whatever I want today. I confidently select the people I want to work with from my team and send the others to the other fitting.
I've already fitted seven of the seventeen outfits to my own models in the past couple weeks, so I quickly dress Susi in order for her to be able to help with everything else. The skirt is a little big on her, but it's not too bad. I dress Julia next. She's a larger-size girl, whom I acquired as a model only two days ago because another model couldn't make it.
Rene is coming back, but he's not sure yet if the guy he tried to book can replace Elias. He helps me choose the first face of the show. It's then that the first model asks whose collection they are trying on, because they can't see a designer. I laugh and say it's me, afterwards listening to their congratulations with a strange feeling swelling in my heart.
There are girls here I've known for years, whose shoe sizes I know by heart. And now they're excitedly talking about my own clothes. If I had told my sixteen-year-old self eight years ago that today, after months of hard work, I would fit my own collection to these beautiful models, I would not have believed it.
I learned and developed a lot over eight years, but I always came back here. During my first fashion week, Rene was the one whose role and responsibilities I now carry, and I was a big-eyed girl who — he later admitted — he couldn't imagine knowing what work even was. Of course it came in handy that I was able to communicate more easily with Hungarian fashion designers and models over the years. This year, only Pitour, SLANGSLANG and my own collection are somewhat Hungarian.
I often find it difficult to interweave the many levels of my identity, so to speak... The surface themes of the HELIOS collection are sunshine and the power, elegance and colors of the sun. But in all of that, the rays of HELIOS make people visible. Without the light of the sun, we cannot see or become visible.
From the concept, through the photographs, to the fashion show, my goal was always to show the world that everyone has a place and that everyone has the right to feel beautiful. I want to create an environment for my fashion in which we can be ourselves safely and with a good feeling. Regardless of the expression of our origin, sexuality and gender, I want everybody to feel connected and comfortable with each other.
This feeling permeates the air not only during the fitting, but also later. Maythavie, a Thai model and actress, is one of the most reliable members of the backstage team. She helps prepare everyone for the runway in the half hour before the show, while I bustle about and try to prepare everything to perfection. As I enter behind the catwalk, I see my creations hanging on the rail with my models waiting in front of it and practicing with May.
I see that the rehearsal is going well, and I boldly ask them to learn a slightly more complicated choreography for the end. Elias' substitute admits that he himself has only been a model since yesterday and somehow the air around us becomes even lighter.
First, schnittBOGEN presents the collections of three collaborating fashion designers. Ana van der Wolf, Katarina Tutić and Bugaric's clothes go on the runway. All three bow and suddenly it's our turn. With one last look from my favorite hairdressers and make-up artists, I straighten the outfits of one or two models and I can already hear my music.
It feels completely surreal to see my own clothes like this. In the last eight years, I've seen maybe almost three hundred fashion shows like this — from behind the stage, but I've never been so removed from myself, it's almost as if I can see it all from the eyes of another.
Rene sends out all seventeen of my models one after the other, a hairdresser quickly pins my hair so that it looks similar to that of my models. To the tune of "Walking on Sunshine", the finale we've just practiced, begins. I watch them on the monitor and they perfectly manage to line up in two rows on the catwalk. Later, I will see that someone took a photo of me at this moment, with my hands clasped in front of my heart as if I were praying. I wait a short moment, then feel the slight push Rene gives me to get out on the catwalk.
The light and applause startle me a little, a friend of mine hands me flowers, blows a kiss, and I start the procession back behind the catwalk. Later, people complain about how quickly I ran back, but after all this time backstage, it's perhaps not at all surprising that this is where I feel most comfortable.
There are people in this team whom I have only known for a couple days, but everyone is affected. Big hugs and kisses follow my happy tears and then I can go to thank my guests, who can perhaps represent who I am even better than myself. I know that my family is here — the Hungarian and Austrian, my friends are here... The first familiar face I come across is a drag artist named Tamara Mascara, who graduated from the same school as I did a few years before me. The headmistress of the Fashion Institute Vienna and my former class teacher are also waiting. My smile almost splits my face when I see the headmistress proudly wearing my own creation, a jacket made for the school fashion show six years ago.
It may be seven o'clock in the evening, but when I hear that Hungarian and Austrian journalists are looking for me, I feel as if the sun is rising.
Evelin Grubbauer